REFERANDUM 2017
Turkey votes 'Yes' in referendum
Turkey has voted in favor of the historic referendum
Ersin Çelik

16 APRIL 2017, 08:14

Yeni Şafak
With over 97% of ballots counted, Turkey is set to shift to a presidential system as the outcome of the referendum puts "Yes" votes at 51.3%, according to unofficial sources.
Turkish citizens voted Sunday on a historic referendum proposing 18 amendments to the constitution.
"Yes" votes were ahead at 51.3% or 24.598.880 votes, while "No" votes fell behind at 48.6% or 23,326,636 votes.
"Yes" votes prevailed in four of Turkey's seven regions, including southeastern Anatolia.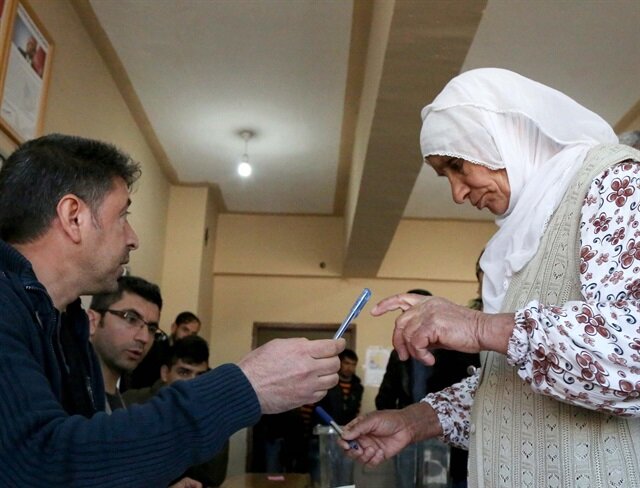 The reforms were approved by 339 deputies on January 21st, and Erdoğan signed the amendments on February 10th.
Under the proposed changes, the post of prime minister is abolished and the president, vice president(s) and cabinet officials can be investigated by the parliament. The current system has no mechanism that monitors presidential conduct.
The new constitution proposes a streamlined legislative process. The post of prime minister will be abolished and the president will be able to issue laws by decree concerning specific areas of executive power. The parliament will be able to declare a decree void, and presidential decrees will be monitored by Parliament and the Constitutional Court.
The president will appoint four members to the Supreme Council of Judges and Prosecutors, Turkey's highest legal body responsible for the judicial system, which is the same number as the president appoints now, and the Parliament will appoint the remaining members. The number of members will be reduced from 17 to 15.
The new constitution would also abolish military commissions and courts, which were the remnants of an outdated constitution written by coup plotting generals. This is perhaps one of the most significant of the proposed changes, because for the first time in Turkey's history the judiciary would be completely under civilian control. The Cabinet will also be abolished but ministers will remain.
The president will also be able to appoint presidential aides and ministers and also unseat them.
The age of candidacy for required for the Parliament would be lowered from 25 to 18, and the total number of parliamentarians will increase from 550 to 600, in order to better represent the growing population.
Galeri: Turks cast vote in traditional clothing