CURRENT
'We absolutely LOVED Turkey,' says Jason Statham's supermodel fiancée after movie shoot
British supermodel Rosie Huntington-Whiteley revealed her thoughts on Turkey for the first time during an Instagram session
News Service

13 APRIL 2021, 04:47

Yeni Şafak
At every chance he gets, Hollywood action star Jason Statham praises Turkish culture and hospitality after he sweated it out for two months in the country's sun-soaked city of Antalya to shoot his new movie "Five Eyes," directed by the globally renowned mogul Guy Ritchie.
However, his fiancée, British supermodel Rosie Huntington-Whiteley, revealed her experiences in Turkey for the first time during an Ask Me Anything (AMA) session for her Insta fam jam.
Responding to a follower's question of whether she ever visited Turkey's Mediterranean province of Antalya, the Victoria's Secret angel said: "We did and we absolutely LOVED Turkey. Such a beautiful country."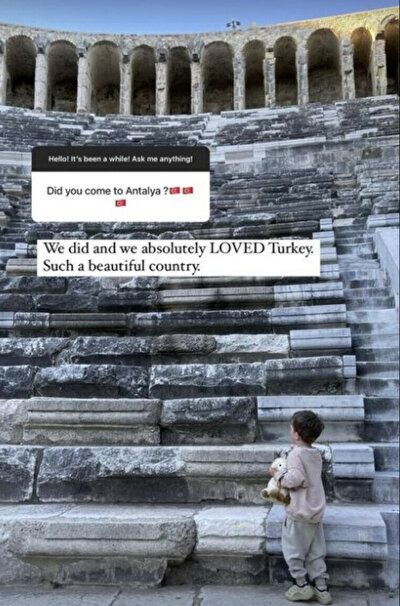 British screenwriter and director Guy Ritchie previously said that filming "Five Eyes" in Antalya was a great "inspiration."
"Turkey is something of a revelation: beautiful food, country, hotels and people. After two months of filming I'd like to shoot all my films here," Ritchie said.
Statham is known for his roles in the "Fast and Furious" movies as well as "The Transporter" and Ritchie's "Lock, Stock and Two Smoking Barrels."
Rosie Huntington-Whiteley

Turkey

love